Through-anchor-free formwork systems with absorbent formlining
Individual and cost-saving formwork for circular structures

Everything from one source
Expertise, technical experience and trained staff.

We are on the spot
Regardless of where your building project is realised.

Active support
Professional support from the start of the project to its completion.
Tie-free formwork systems
Optimal formwork systems for specific, rotationally symmetrical construction projects require detailed expertise, technical experience and trained personnel.
With us, you get all this from a single source.
Ourforeman is a trained specialist for our technically excellent, tie-free formwork systems, who knows our products inside out and takes the responsibility for the entire formwork task on your construction site. Regardless of where your construction project is realised: We are on site.
Directly on the construction site, the foreman, in consultation with the project manager in our office, ensures that the time schedule is adhered to and checks the qualityof the work carried out.
RSB not only supplies you with materials and components. We offer you active support and professional support from the start of the project to the successful completion of the construction process.
Why you save costs with formwork systems from RSB?
Quite simply because the customer gets the best customised technical solution from us – and much more besides.
We act efficiently for you: All our projects are rental projects, and we also provide the associated staff for the entire duration of the project.
What our tie-free formwork systems do for your projects
Self-supporting formwork systems without ties

: Our technologically innovative formwork systems do not require any tie holes at all. With conventional formwork, the inner formwork is connected to the outer formwork by tie holes. At the end of construction, the anchor points must be closed again.
With us, both the

material costs

for this work step and the associated

personnel costs

are

eliminated

.

Source of error eliminated

: The fact that there are no anchor points in our structures also means that we have eliminated this potential source of

leakage categorically rule out. With our anchor point tool

you can calculate the

direct cost benefit

of anchor-free technology for your construction project.

Advantageous appearance

: Anchor-free structures look much more

professional

even at first glance. In the case of tie holes, on the other hand, the subsequently closed holes always remain visible.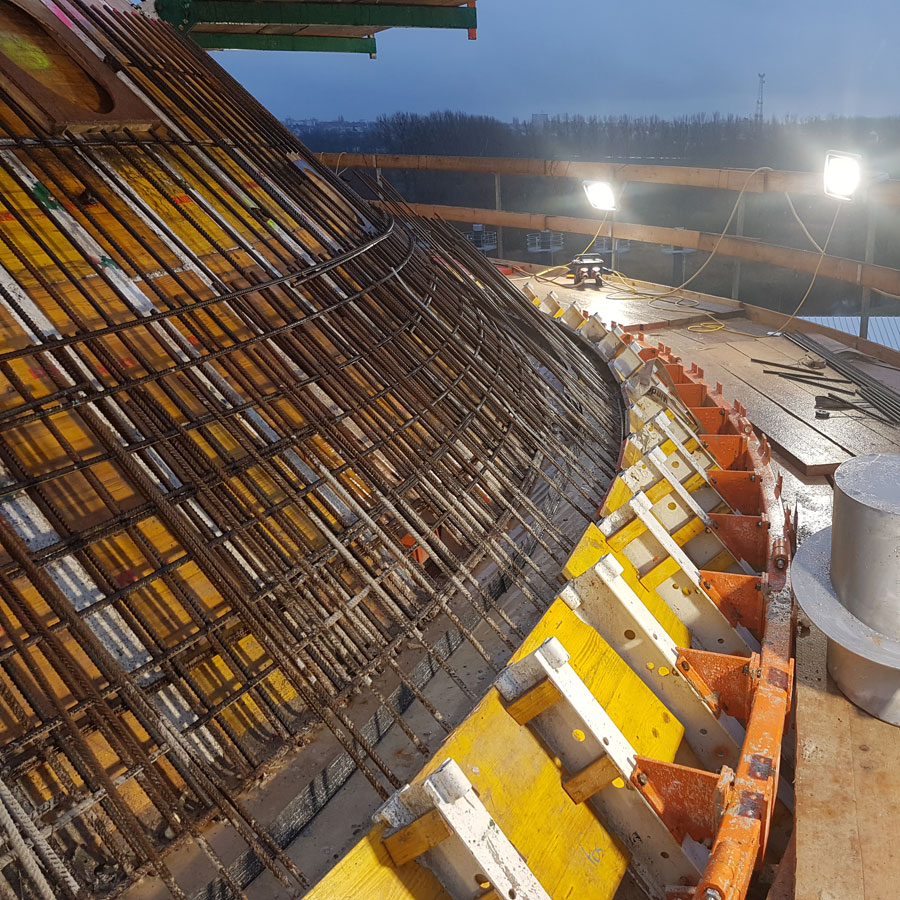 Absorbent formwork facing

: Our formwork systems with absorbent facing provide

higher impermeability

.
Two cost units

at a glance: Our formwork projects include direct costs for the

formwork

(formwork rental and material) and

personnel costs

for our expert supervision on the construction site (foremen) and in the office (project manager).

You have the overview and we take care of the efficiency of the circular formwork on your construction site.
Formwork systems for diverse structures
We design and realise formwork for cylindrical or simply round objects, for example in funnel or egg shape. We even implement specifically adapted circular formwork for conical (double-curved) structures.
Find out now about our tie-free formwork systems for your demanding construction project!

Schilfweg 1 · 6972 Fußach · Austria