Circular formwork for concrete structures since 1978
We are your specialists for anchorless formwork for rotationally symmetrical structures made of reinforced concrete.

Full service provider
We take care of project and personnel planning, development, production and assembly for our customers.

Advice and service
Our customers around the world benefit from our comprehensive advisory and service offerings.

ISO-certified
The quality of our systems, processes and products complies with the ISO quality standard.
Save costs with our formwork systems
Experts for individually optimal formwork solutions
We develop customised, first-class and cost-saving solutions for the formwork of your circular concrete structures and accompany you with professional know-how throughout the entire construction project, from the concept to the end of implementation.
As experts for technically demanding formwork we design, optimise and manufacture circular formwork ourselves according to our customers' needs. Together with our customers, we realise the ideal formwork for digesters, silos, water towers, shafts, funnels, displacement cones, tunnels, offshore foundations and customised structures.
Operating all over the world
Our customers are civil engineering contractors all over the world and, for their part, experts in the construction of concrete structures.
The benefits of our tie-free and self-supporting formwork, which is lifted upwards without a crane by means of an RSB working scaffold, are manifold:
Saves material costs

and

personnel expenses
Saving resources
First class execution
Not only formwork work, but also the reinforcing and concreting work can be carried out from our scaffolding.
Four decades of expertise and cooperation
As a specialised company with extensive expertise in formwork construction since 1978, we act as a full-service provider for our international customers in the construction industry: we offer advice on project and personnel planning, design and assembly.
Our comprehensive technical know-how and our experience values from more than 40 years of company history flow into the construction logistics as well as into the technical implementation, project management and coordination for every project. We work with accurate RSB construction schedules, focus on on-time completion and thus support our clients in minimising costs.
Innovative strength through research and development
Research and development enjoy a high priority at RSB. We develop and test directly in the company new technologies and methods for reinforced concrete construction. Our certified Quality management system makes it possible to sustainably improve the system quality as well as the process quality and the product quality of RSB.
Our strengths – for our customers
Specific solutions and standard solutions
We focus on your requirements and find your optimal formwork solution.
Dimensionally accurate results
Our tie-free formwork systems allow us to work with an accurate fit and create smooth surfaces without sealed tie points.
Shortest possible construction time
With the RSB construction schedule, our foreman and a project manager in our office, we implement your project in the most time-saving way possible.
Safe work
Working scaffolds are integrated in the formwork system to ensure the safety of the workers on the construction site.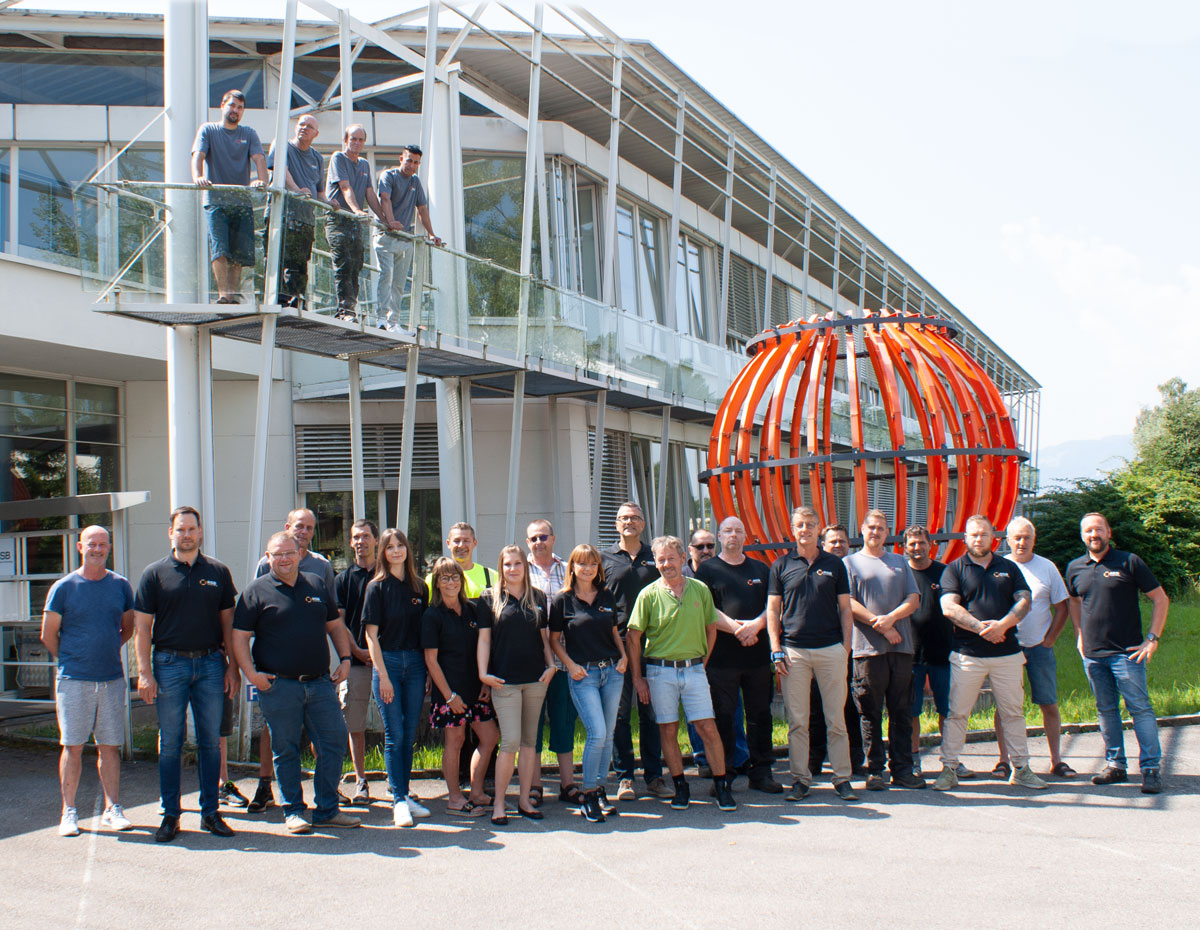 Schilfweg 1 · 6972 Fußach · Austria